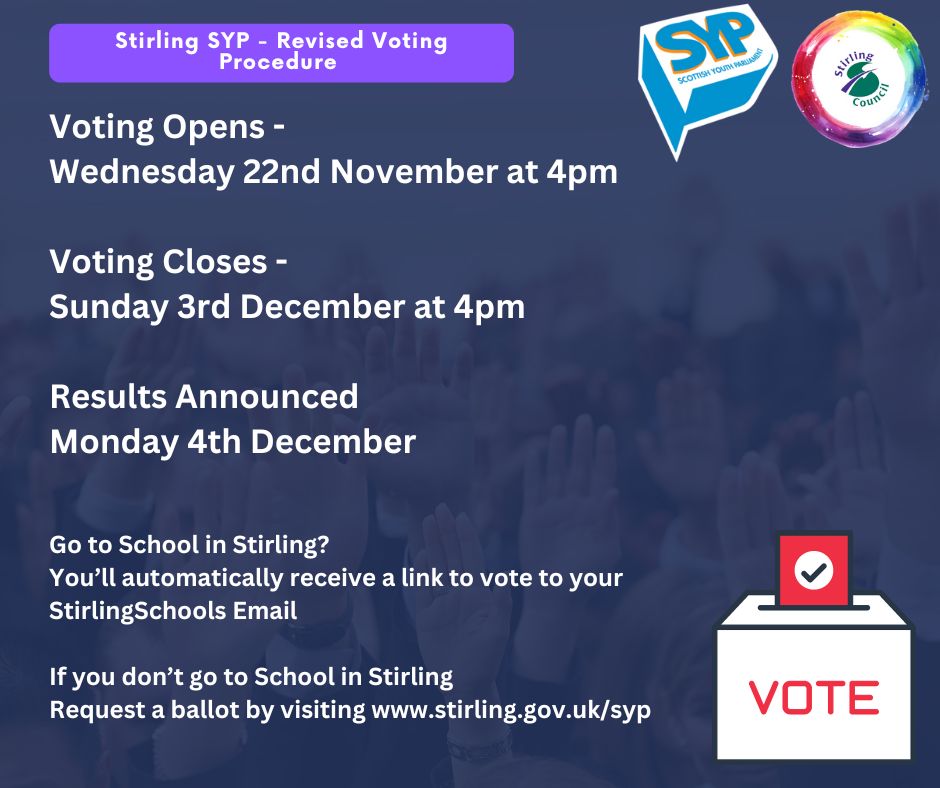 What is SYP?
The Scottish Youth Parliament (SYP) is the democratically elected voice of Scotland's young people.

SYP.org.uk, 2023
Every two years, you have the chance to vote on who will represent young people from your local area as a member of the SYP. These members are responsible for listening to your thoughts and opinions on the issues that matter to you, and sharing them with decision-makers.
Who Can Vote?
All young people aged 12 – 25 can vote in this election.
What Are Constituencies?
Local areas are divided into constituencies for voting, to make sure each area has roughly the same amount of voters to make it fair. This is not the same as a local authority which means you might need to check which constituency you are in. You can do this by entering your postcode on this Scottish Government Website. Stirling has two seats up for grabs in this years elections.
Who Are The Candidates For My Constituency?
You can find out which young people in your area are running as candidates here https://elections.syp.org.uk/elections/19/constituency/12/. You will also find a little bit of information about them to help you make your decision. Stirling has 9 candidates standing in the 2023 elections.
Voting
The election runs on the Single Transferable Vote (STV) system. This means you can pick just one candidate, or you can rank as many candidates as you like in order 1,2,3… etc.
Note that you cannot pick one candidate as number 1 and then rank two or more candidates as number 2, each candidate should have their own number. If you don't want to choose who should be number 3 or 4, only pick two candidates and submit your vote.
Who To Ask For Help?
If you need any more information about how to vote, you can email your local area's youth work team at msyp@stirling.gov.uk