Women and Girls in Sports Week is all about celebrating and encouraging women and girls into sports. So we caught up with Nicola who plays netball for the under-21 Scotland Squad, who shares her journey into netball and top tips if you're thinking about giving it a go!
How did you get into netball?
I was always really sporty when I was little. I was involved in tennis, dance, judo, you name it, I probably did it! One of the things that we have in my area was a junior netball club, so I started that when I was seven, playing for what they called the nippers squad, which is kind of just fun, netball-y type games. I then worked my way up to fast fives, which is like the little, children's version of netball and stayed with that junior club until I was about 14 or 15.
When I was 12, I trialled for my district, Argyll and Bute. And from that Netball Scotland had scouts at one of the district tournament days. From there they scouted me to come and trial for what we used to have which was development academies. My area was the West Development Academy and I was coached by an ex-Scotland player, Nick McCleary. I was there for, I think three years and then I was selected into Scotland under-17s. This was all still while playing club in the district at my school. So, I just kind of worked my way up the Netball Scotland pathways up into where I am now which is in the under-21s.
What does your future playing netball look like?
I have always dreamed of reaching the top. I think even from when I was little and I was watching Thistles matches, I watched the Commonwealth Games in 2014 when they were in Glasgow, and it's just something I've always aspired to.
In my mind, it's not an option. It's like I will get there and I'm kind of on track, doing what I need to do, training, probably more than I sleep sometimes! So yeah, the end goal is, I'd ideally be in the Thistles in a few years' time, playing for Sirens or Vitality Netball Super League squad. Really playing at that elite level week in and week out.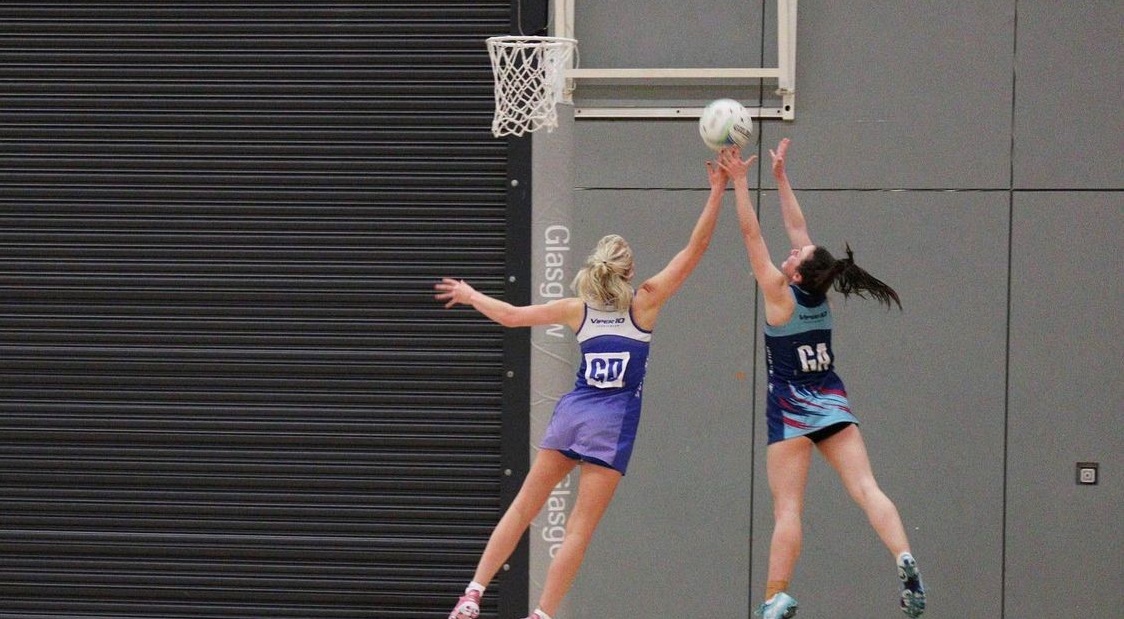 How did you balance school and your social life with playing netball?
It gets hard, sometimes. I'm really lucky, my mum is so supportive of me. I still can't drive, so she's my taxi driver everywhere! I would not be able to do as much as I do without her. There are also a lot of early mornings and late nights, really getting work done in cars on the way to training.
I was also lucky that my school let me do 4 subjects instead of 5 for higher when I was in my fifth year. So I had those extra study periods to catch up on any work that I might have missed or had not been able to do because I was training or playing games late in Glasgow.
I had a lot of support from my school and my clubs because they knew how much I was trying to balance getting good grades in school to get into University and playing high-level netball.
What do you enjoy about playing netball?
I love it! I'm a competitive person. I really, really enjoy the competition.
But I think the most notable thing that I've gained from netball, I would say are the friendships that I've got from it. There are people I've known since I was seven that I still am in connection with now, even though we've gone really different ways in life, but because we've played at the same club at the same time, I'm still in contact with them, and there's still people that I know I can go to. I've just made some really, really good connections, and really good friends within my teams that I know would always support me.
What advice or top tips would you give to anyone interested in playing netball?
I like to think netball has probably one of the most welcoming sporting communities of any sport, anywhere. We're really accepting of anyone, whether they're a boy or girl, whatever level of netball experience they have then we just encourage them to really go for it. Find a club that's near you and just go and try it because you won't regret it!
Netball Scotland has a club finder on their website, you can put in your postcode or your area, and it will come up with little pinpoints of where clubs are near you. They share the contact details for each club, so you can contact them and find out when they train and how to get involved.
My top tip for if you're attending your first netball session is never feel like other people are better than you. If you go in thinking, 'Oh, these people know more than me' or 'this is like my first try, and I don't know what I'm doing', you won't get as much out of it. If you really throw yourself into it, chat to the people in your team and the people you're playing against, really try and engage and make a connection, you'll get the most out of it!
—
If you're interested in finding out more about netball, visit the Netball Scotland website and take a look at the Club Finder. You can also follow Netball Scotland on Instagram to keep up to date, or follow the Sirens or Vitality Netball Super League on TikTok.
Make sure you also check out Young Scot Membership for access to discounted netball match tickets, volunteering opportunities and Rewards.
Young Scot supports young people to share their own voices, views and opinions and works with partner organisations and professionals who are experts in different topics. The views expressed in this blog are those of the young people, organisations and/or individuals who have taken part in the blog, not necessarily the views of Young Scot.