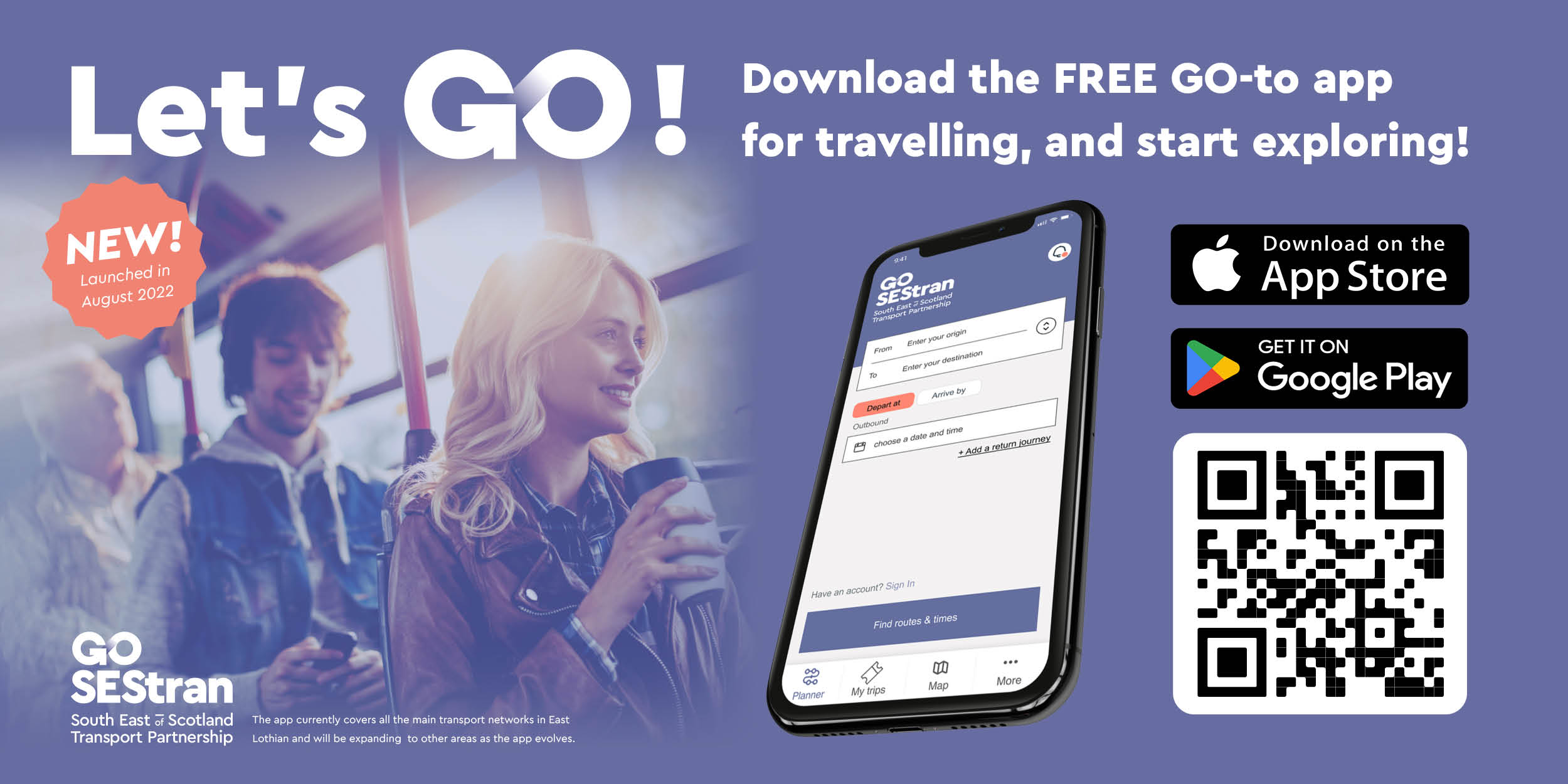 GoSEStran is a new app from the south East of Scotland Transport Partnership (SEStran.). GoSEStran is a travel app which has specifically been designed for getting around East Lothian and other areas in Southeast Scotland.
It helps you get about better! Because it is local it allows you to find local transport gems which may just work for YOU!
Transport services are changing all the time and GoSEStran is a great place to find out about new services: a new demand responsive transport service, bike schemes, new hubs rich in transport options – GoSEStran will tell you. You may just find out something which works for YOU.
GoSEStran allows people to plan their journeys as well and book and pay for many services. Just like the big transport apps – Googlemaps, Citymapper etc – it brings together all forms of transport into one app. However, GoSEStran also includes all local transport initiatives: it is a place to find out what is available and what is happening. Users also get to register their details so they can get personalised information (eg cost of travel) and notifications to help them travel.
GoSEStran is a trusted source – run by the Regional Transport Authority it does not promote any company or push adverts. It is just there to help.
You can download the app for Android or iPhone
or scan the QR Code
Just type in your desired destination and travel time, then get an instant overview of the best routes and transport options.
See departures in real time
Filter transport modes
Compare prices and buy tickets
Add your concession pass and save money (including the under 22's free bus entitlement on your Young Scot National Entitlement Card
Save destinations you often travel to or from
View upcoming and past bookings
Get journey suggestions for cycling and walking
Compare your journeys' carbon footprints
At the monent – the app covers the SEStran area: City of Edinburgh, Clackmannanshire, East Lothian, Falkirk, Fife, Midlothian, Scottish Borders and West Lothian. Other araeas will be added over time.