In this article we share some tips on how to avoid being scammed, as well as what to do if you click on a phishing link or give a scammer your personal information.
Around 80,000 Brits a month are scammed by phishing attacks.
What is a phishing scam?
"Phishing" is a type of scam criminals use to try to gain access to your personal information, such as usernames, passwords or bank details. A phishing scam can be sent via email, text or a scammer could call you over the phone.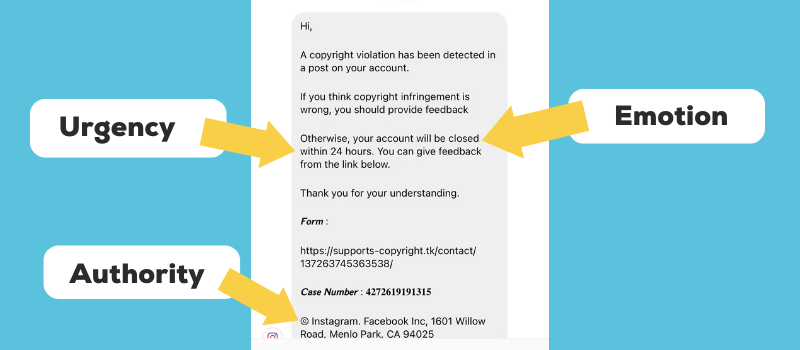 Is this a scam?
Here are three things to look out for if you're suspicious of something being a scam.
Authority – Does it seem like they are imitating someone you normally trust?
Urgency – Do they set a deadline? Are they trying to rush you to take action so that you can't think clearly?
Emotion – Does the message make you feel fearful, hopeful, curious?
The content of phishing attacks changes all the time but using this checklist can help you identify whether a message is a scam.
You can always report something you're not sure of.
You can report suspect emails to report@phishing.gov.uk and forward scam text messages to 7726.
You won't find out what happens after you forward things on, but they are easy ways to report when something isn't right.
How to avoid being scammed
Be wary of any messages you think are suspicious.
Before opening a message check the sender's email address.
Check the quality of the communication – misspelling and poor punctuation could mean it's a scam.
If you're not sure the message is genuine, do not download attachments or click on any link.
Are you told you have a short time to respond, like "within 24 hours" or "immediately"? Scammers often threaten you with negative consequences if you don't act quickly.
Do not give out private information (such as bank details or passwords).
Turn on Multi Factor Authentication on your apps. This prevents an attacker gaining access even if they know your username and password.
Turn on spam protection settings on your phone. For Androids go to Messaging app – Settings – Enable spam protection. For iPhones go to Settings – Messages – Filter unknown senders.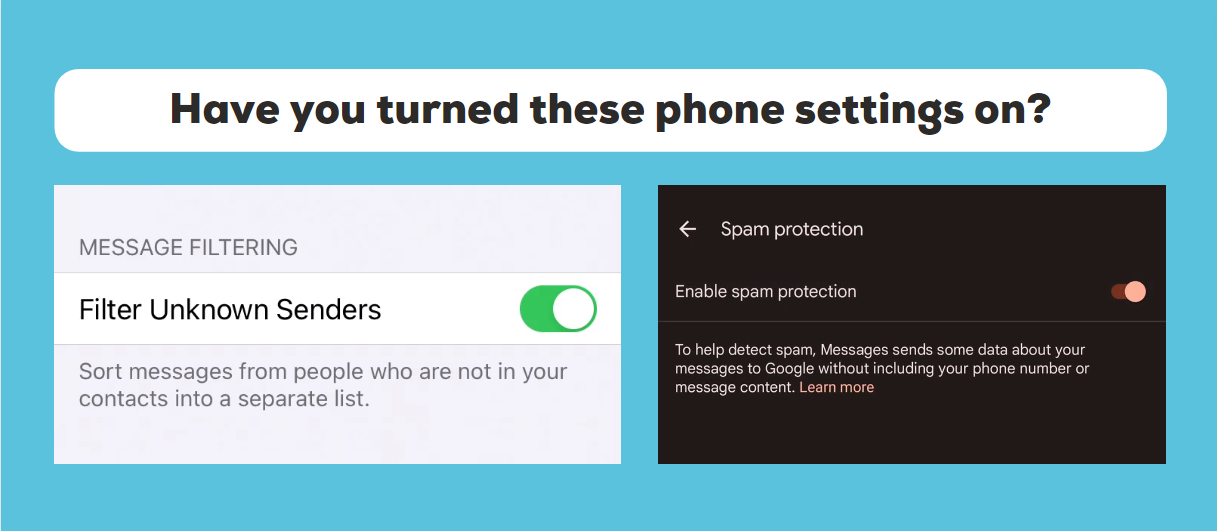 What to do if you've been scammed
Firstly, if you've been scammed remember it's not your fault and you're not alone, there is support available to help you. Here are some tips from Citizen Advice Scotland on what to do if you've been scammed.
Reset your passwords.
Let your bank know your financial information might have been stolen.
Update your anti-virus software.
Keep an eye on your bank statements and look out for unusual transactions.
Forward phishing emails to report@phishing.gov.uk – this will go to the National Cyber Security Centre – they may be able to stop other people being scammed.
If you transferred money to the scammer in the last 24 hours tell the police immediately by calling 101.
If you think your account details or PIN have been stolen contact your bank immediately so they can protect your account.
You can also use the Citizens Advice Scotland Online Tool to get advice after being scammed.
Being scammed doesn't just affect you financially, it can also affect your emotional wellbeing. If you're worried about how you're feeling and think you might need support head to Aye Feel for more information.
Visit our DigiKnow page for more on phishing, scams and being safe online.