With your Young Scot National Entitlement Card (Young Scot NEC) you can save money on travel across Scotland by train, bus and ferry.

Train
Get a 1/3 off rail travel if you're 16, 17 or 18 years old (or up to 25 years old and a full time volunteer) or save 50% on weekly or monthly Season Tickets.
Please ensure you have your Young Scot NEC with you when you travel. You cannot buy tickets for anyone else using your Young Scot NEC.
Restrictions
If you travel before 10 am Monday–Friday, a minimum-spend limit of £12 applies in order to get a third off of your ticket. These restrictions do not apply in July and August, or if you're purchasing a season ticket.
Tickets can be bought in person from the ticket office or on the train. Simply ask for the Young Scot discount and show your card to get the reduced fare. Tickets should only be bought on the train where a ticket cannot be bought at the station due to no ticket office or ticket machine.
You can also book online via the ScotRail website or by calling 0330 303 0111.
Visit the National Rail website for terms and conditions.
Get more information, claim your discount and plan your journey via ScotRail's website.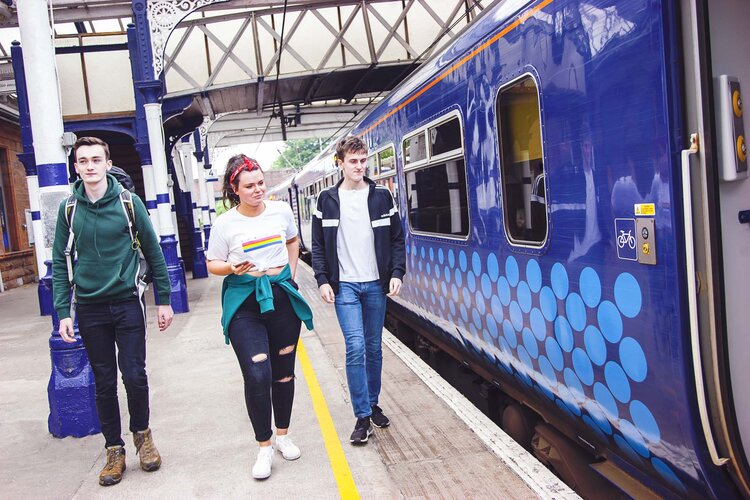 Bus
All young people under 22 years old and living in Scotland get free bus travel.
Free bus travel can be accessed by using your Young Scot NEC.
Find out more about how to access free bus travel in Scotland. 
Ferry
If you are aged 16, 17 or 18 and live on a Scottish island you will receive four ferry vouchers which gives you two free return ferry journeys to the mainland each year.
The vouchers are valid from 1 April to 31 March of the following year and you get them automatically until you turn 19 (or 26 for full-time volunteers).
If you have received ferry vouchers because you are aged 16-18, you must be under 19 on the date you travel. Ferry terminal staff will check you have a valid Young Scot card and ferry voucher when you travel and will also check the date of birth on your Young Scot card.
You will require a valid Young Scot NEC and valid ferry voucher when you book and will need to have these on the day of travel or you will need to pay for the journey.
Volunteer full-time?
If you are a full-time volunteer aged up to 26 years old you get discounted rail travel, discounted bus travel, plus ferry vouchers for Island residents  
Full time volunteers aged between 19-21 years old (inclusive) are entitled to free bus travel under the Young Persons' Free Bus Travel Scheme. In addition, when aged 22-25 years old (inclusive) you're also eligible for discounted bus travel if you volunteer for more than 30 hours a week.
You'll need to submit an up to date letter from a senior official in a recognised volunteering organisation which confirms your name, full postal address, and that you volunteer with that organisation for 30+ hours per week.
Your Young Scot NEC also gives full-time volunteers a 1/3 discount off the adult single fare on almost all local and long-distance buses in Scotland. It also works on services to and from Carlisle and Berwick-Upon-Tweed from anywhere in Scotland. Book in advance or just show your card when you jump on a bus.
Getting the discount is simple. Place your card on the electronic ticketing machine, state your destination to the driver and your discount will automatically be calculated.
For more information about concessionary travel discounts, please visit the Transport Scotland website.