We have some exciting news to share…
It's time to change the system!
What is #YSHive?
#YSHive builds upon the legacy of the Year of Young People 2018 to help empower you to be a system-changer and influencer, to tackle Scotland's toughest challenges and the things that matter to you most.
How did it come about?
#YSHive was developed through the amazing feedback and ideas that Young Scot volunteers have contributed over the past few years and our team are here to help you volunteer on projects with other young people from across Scotland.
System-changers have all the power…
By volunteering as a system-changer you'll have the chance to create a fairer, more sustainable world for your friends, communities and future generations. So whether you're interested in equality, climate change, housing, education or everything in-between, we want to help you create a movement for change.
You don't need any specialist knowledge or any previous experience to take part!
All you need to bring is a passion to make Scotland a better place – you'll get the rest through support and opportunities with us to build your skills as an active citizen.
We celebrate diversity & inclusivity
Young Scot believes that a mix of lived experiences is vital for successful projects.
Our volunteers, past-and-present, are different ages, come from different parts of Scotland from the borders right up to the isles, and have different interests, backgrounds and personal stories. Some have volunteered with us at a one-off workshop, or on a short project for a few months and others have been with us for years!
Equal access to opportunities and inclusivity are at the heart of everything we do at Young Scot. We will always continue to work closely with you and make reasonable adjustments based on your needs to ensure you can participate in any kind of #YSHive project.
This is the process
you'll
be supported through
: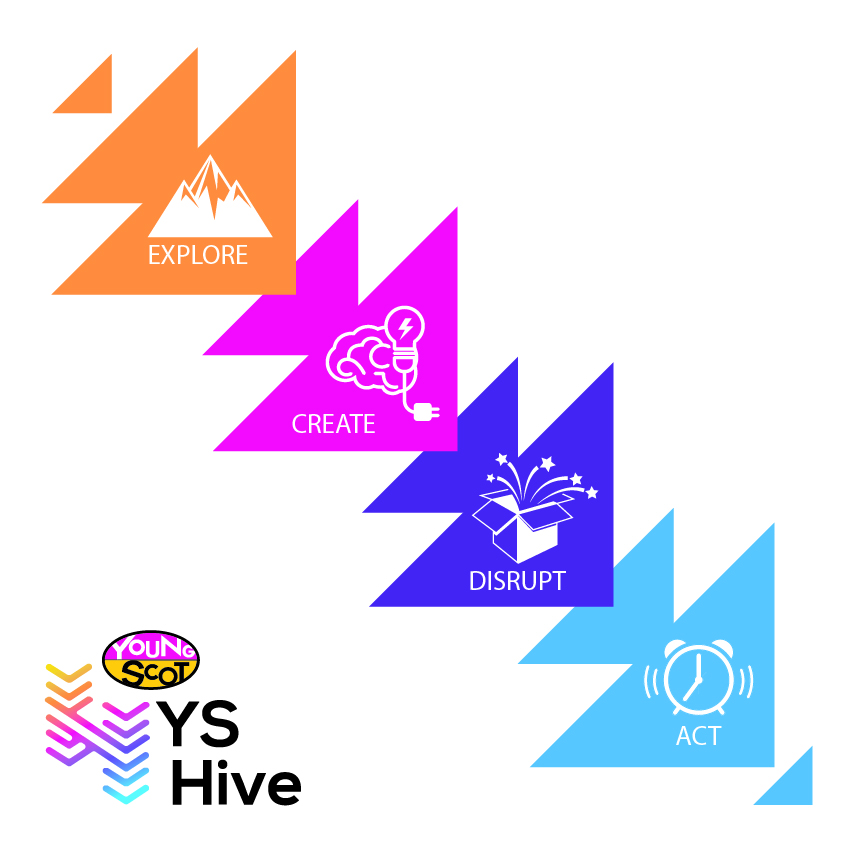 What volunteering for #YSHive is actually like…
We make sure that:
The

experience

is

engaging – it's not going to be like your classroom at school

Y

ou can easily make

friends

with other volunteers

We

provid

e

accessible support local

ly

and nationally through

Young Scot staff and our partners

You gain valuable skills that will help you to

collaborate with the people in power and help them tackle problems that matter

You will always be encouraged to develop valuable and innovative ideas to pitch to decision-makers

We

prioritise your professional development and recognise your achievements, whether they're big or small

We provide recognition through training and accreditation – meaning the time you spend volunteering earns you recognition

We link you to other Young Scot services that are valuable to you, like information, the Young Scot National Entitlement Card, Young Scot Membership with Discounts and Rewards and Outreach Services

We share opportunities for

other

volunteering experiences with you,

through Membership

and our digital content

or with our partners
Let's unlock change together.
Get involved by exploring opportunities.
Got questions?
For pretty much everything you might want to know about volunteering with Young Scot, check out our Volunteering F.A.Q!
Don't see anything that interests you?
Email our team at YSHive@young.scot to share what matters to you and find out about projects that might be coming up.
Find out more about #YSHive and start exploring opportunities.