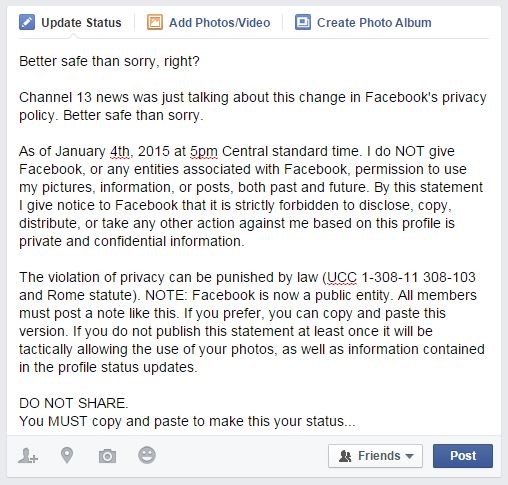 Look familiar?
No doubt statuses like this regularly pop up on your news feed, but unfortunately these posts have no impact on how Facebook uses the information which you share online.
What information is Facebook collecting?
Tracking your location from phones and tablets and letting you know if friends are nearby
Collecting information about the other websites you visit while you're logged in
Targeting adverts based on your online activity
If you allow Facebook access to your phone contacts it can add friends from your address book
Did you know? Facebook also has the right to use your public profile picture in any of their adverts.
What can I control?
You can control what content you share with friends by selecting audiences, such as Friends, Public, or Only Me, from Facebook's privacy menus or from the drop-down menus on individual posts.
You can also control which apps get access to your data. Go to get your Privacy Settings, select the Apps tab, and delete any apps you don't use any more (that can still access your data)
Did you know? Apps that your friends use can also access your data – even if you don't use the app yourself. You can change this by going to Privacy Settings > Apps > Apps Others Use and change what info other apps can see.
In the Privacy Settings section under Ads, you change what information advertisers can get from you too – including things like your relationship status, what you look at online, and your interests.
Visit the Facebook Help Centre for more information on Facebook privacy settings.
Visit our DigiKnow page for more information about being safe online, keeping your personal data secure, opportunities to learn more and how to kick-start a career in the digital world!