Montrose Community Hub (MoHUB) is a hub of activity, opportunity & community spirit. The facility is owned & operated by YM Montrose.
The Youth Cafe is open to young people aged 12 – 16
Find out more and get the most up to date information on their Facebook page
Monday 6.30-9.30pm
Thursday 6.30-9.30pm
Friday 6.30-9.30pm
Montrose Community Hub provides a range of activities and opportunities within its town centre facility. With an emphasis on supporting children and young people, the MoHUB offers a range of youth work activities and programmes, all of which are designed to support physical and emotional wellbeing, whilst also supporting youngsters in developing the skills required for life, learning and work, which includes the provision of meaningful work placement opportunities. The youth club caters for artistic, musical, sporting and gaming interests, whilst also merely providing a safe space for socialising with new and existing friends.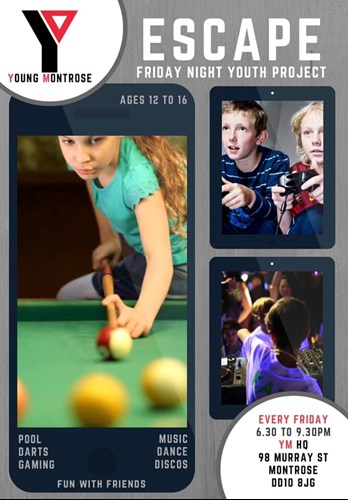 LEAD CONTACT: Peter Davidson
Contact by EMAIL : enquiries@mohub.co.uk
or visit the Website or Facebook page