Fancy a job in forestry? Meet the people behind the jobs in Scottish forestry and check out their tops tips.
Cameron
Harvester Operator ? Forestry and Land Scotland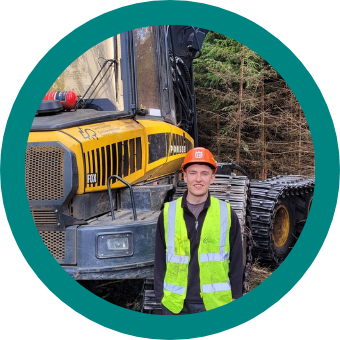 I am a harvester operator specialising in first thinnings working for Forestry and Land Scotland (FLS). I am based out of Aberfoyle but cover a wide area across the Trossachs depending on where the harvesting sites are. I have been working for FLS for 3 years now having left college where I trained to operate these machines.
Cameron's Top 3 Tips
Get your tickets for operating a harvester, forwarder, or chainsaw first, it makes finding employment much easier
Try and get a background in Forestry or mechanical work
(even if its voluntary, experience is desirable to employers)
And finally, you better get used to early starts and midges!
Gale
Assistant Woodland Officer ? Scottish Forestry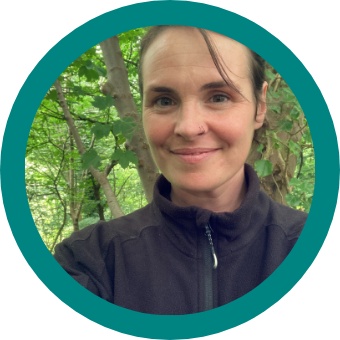 Hi I'm Gale and I work as an Assistant Woodland Officer based in the South Scotland conservancy. I have been studying and working in arboriculture and forestry since 2007 and have been in lots of different roles. I began as a tree surgeon and surveyor then worked as a tree officer and then into consultancy. I decided to I would like to try the Assistant Woodland Officer role as it was much more varied than my previous jobs and also meant I could learn about more aspects of forestry.
Gale's Top 3 Tips
Get some training
Personally, I like to do a qualification, but that doesn't mean you have to go to uni to get into forest industries. There are apprenticeships which are a great foot in the door and you can always study later if you want to. On the job training is a brilliant way to learn.
Pester, pester, pester!
See if you can get some work experience with a local company. I contacted every local, and some not-so-local, tree surgeons, put signs up local shops and on the internet to see if I could get some experience.
Join trade bodies and local groups
I joined bodies like the Institute of Chartered Foresters (ICF) and small groups such as Native Woodland Discussion Group and the Ancient Tree Forum and did as many excursions and workshops as I could. It was a great way to meet people in the industry and get an idea of the different types of jobs that were available. And aye, I asked most of them for work experience too!
Gareth
Forestry Development Officer – Scottish Forestry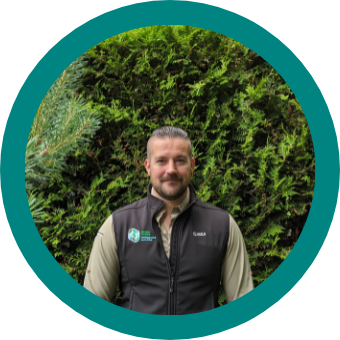 Hello, my name is Gareth Phillips and I'm a Forestry Development Officer, working for Scottish Forestry. I'm employed by our National Office in Edinburgh but work remotely from home and the local office in the Highlands.
My journey with forestry could be distilled down to the phrase ?accidentally in love'. I started working in forestry at 17, straight from school after my Highers. Forestry wasn't on my radar back then, nor was it promoted in schools as a career path, so I wasn't sure what to expect when I applied to the Apprenticeship Programme, having no other meaningful work or worldly experience. But here I am, 12 years of forestry under my belt and a hugely rewarding career. I moved to Lochaber first, then to the Central belt for a spell, then back to the Highlands; each move being steps up the ladder. In recent years I've moved away from practical forestry and work in development where we try to improve how we work and come up with new ideas to incentivise and support woodland expansion in Scotland.
Gareth's Top 3 Tips
Start Somewhere. There is no denying the job market is more competitive these days. If this is your first job or you want to change career but don't know where to start, speak to someone at your local forestry office or university, if they offer courses. Get into higher education and/or volunteer between work or study to get hands-on experience. Don't be afraid to start with the basics and work your way up ? having that experience and perspective is valuable when progressing your career.
Move around, if you can. It can be daunting, I know, but there is a lot of varied work going on in Forestry across Scotland and you'll get great career development from experiencing the many facets of Forestry ? It's not just cutting down and planting trees!
Make contacts (and keep them). There is a lot more to forestry than just trees. This sector boasts a range of diverse roles filled by passionate people just waiting to share their knowledge and experience, if you give them the chance. This applies to other land based sectors that we work alongside too. Learning from and discussing issues with people that have different experience or don't share your perspective is a great way to grow both professionally and personally.
Good luck with your career, perhaps we'll meet in person soon!
Jean
Harvesting and Marketing Forester ? Forestry and Land Scotland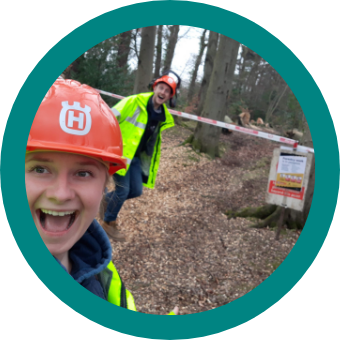 From an early age I always loved being outdoors and helping my dad on our dairy farm. This inspired me to pursue a career within the environmental sector. I started off by doing an undergraduate BSc(Hons) is in Countryside Management which had a good variety of modules relating to land management. I particularly enjoyed the advanced woodland management course and my dissertation which led me onto doing a part time Masters in Forestry whilst working full time.  
I have had a variety of jobs throughout my forestry career to date, from surveying roles, woodland management to a regulatory role- all giving me different experience and perspective. I never undertook any graduate programs or job shadowing due to the limited availability of these opportunities so I would actively find roles which I could gain experience from to enhance my skillset at the time. 
I am a visual learner and enjoy problem solving which my different forestry roles have given me the opportunity to pursue. The forestry industry offers a great variety of job roles and opportunities.  
I've recently started a new role as Harvesting and Marketing Forester which combines the site management, budget and contract management which I really thrive upon. 
Jean's Top 3 Tips 
Immerse yourself in researching and understanding the choices of roles and different places to work -non government organisations, government and the private sector
Join the Institute of Chartered Foresters and the Royal Forestry Societies 
Try to gain practical experience as this helps to understand how forest operations are undertaking
Michael
Seasonal Ranger ? Forestry and Land Scotland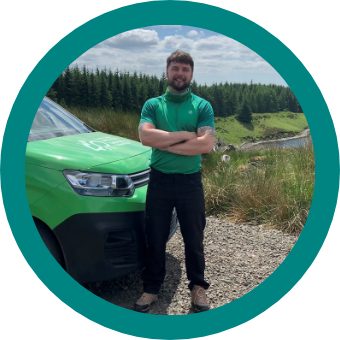 I have a work background in project management and IT but in 2019 I decided to move into a career that I felt really passionate about – forestry, wildlife and conservation. Having volunteered in community woodlands, gardening and conservation, I am currently working with Forestry and Land Scotland (FLS) as a Seasonal Ranger. I am based in the central region and cover the Greater Glasgow area including the Kilpatrick Hills and Cuningar Loop.
I absolutely love the role and it involves speaking to the public about FLS sites as well as promoting forestry and nature in Scotland. I am building up as much experience across rangering and conservation so I can hopefully progress to a permanent full time position within FLS. I am also studying conservation and woodland management.
Michael's Top Three Tips
Volunteer in positions you are passionate about
Walk in woodlands as much as you can and go exploring new ones
Gain people skills through lots of work placements or any work experience
Paige
Visitor Services Manager – Forestry and Land Scotland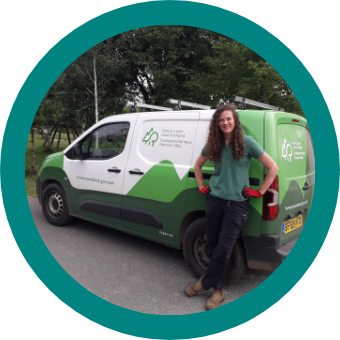 Hi! My name is Paige and I'm an area Visitor Services Manager in Central Scotland. I manage, develop and promote high quality, visitor focussed experiences in Scotland's national forests; in a nutshell I make sure that visitors have a safe and enjoyable time on Forestry and Land Scotland (FLS) sites in and around Glasgow.
While I was in University I started planting trees as a summer job in northern Canada, where I'm originally from. It didn't take long for me to realize that I was far more interested in forestry than what I was studying, so after I completed my degree I decided to stay in the industry. When I immigrated, another staff member told me about the opportunity to work in recreation department of FLS, it seemed like the perfect fit because I knew I liked forestry as well as spending as much time as I can outside doing various sports and activities. I love that I get to facilitate and encourage people to take part in all the activities that I love doing so much like hiking and biking.
Paige's Top 3 Tips
Forestry is so much more than cutting down trees! No matter what your interests are, there's a space in forestry for you. We have everything; civil engineers, mountain bike rangers, estate agents, environment managers, the list goes on and on.
If you have any questions about the different aspects of forestry, just ask. Everyone I work with is extremely passionate about their work. Everyone is always willing to take the time to teach others about what they do; I'm still learning every day about how all the different jobs within forestry all fit together and the role everyone has to play.
My top tip for doing my job is that I always pretend that it's my first time on a site every time I visit. It makes me look at our facilities the way a new visitor might and what they're impressions might be. Keeping this mind-set is very important for planning around visitor experience.
Find out more about how you can use Scotland's Lands and Forests responsibly.
Young Scot supports young people to share their own voices, views and opinions and works with partner organisations and professionals who are experts in different topics. The views expressed in this article are those of the young people, organisations and/or individuals who have taken part in the blog, not necessarily the views of Young Scot.