Looking to find out about the arts and culture activities available through FAB? Look no further.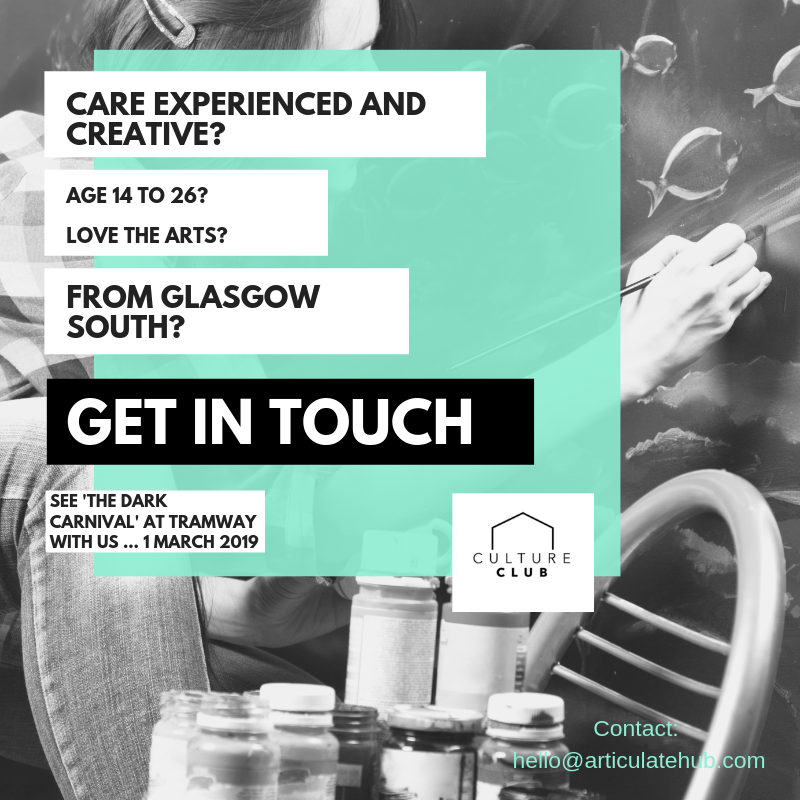 Articulate Arts Hub have a project dedicated for FAB participants.
To find out more about Articulate's Culture Club project, please contact them through e-mail.
Arts in the City
Arts in the City is a Glasgow City Health and Social Care Partnership project, supported by Glasgow Life which exists to help improve the lives and life chances of Care experienced children and young people through engagement and involvement in the arts.
Why the Arts?
Participation in cultural and sporting activities has been shown to result in the gaining of new skills, improve informal and formal learning, increase self-confidence, self-esteem and a feeling of self-worth, improve or create social networks and enhance quality of life.
We run various participatory workshop throughout the year as well as signpost you to appropriate community activities. Current programmes include Drama workshops, Drop in Music Sessions, and Film Making Workshops.
Want to know where your nearest dance class is? Are you caring for a young person who is interested in drawing, how can you help them make the most of their talents. My role is to support you in finding these opportunities, so please do not hesitate to call.
Clare Macaulay – Arts Development Worker
Continuing Care Services
0141 302 2800
clare.macaulay@sw.glasgow.gov.uk
Head back to the Glasgow FAB page.