Scotland's Young Person's Forest panel member Ben, aged 12, shares his top tips on how to forage safely.
Foraging is the act of gathering wild food for free.
Remember to be cautious. Make sure you can identify a plant with 100% certainty before touching or consuming it.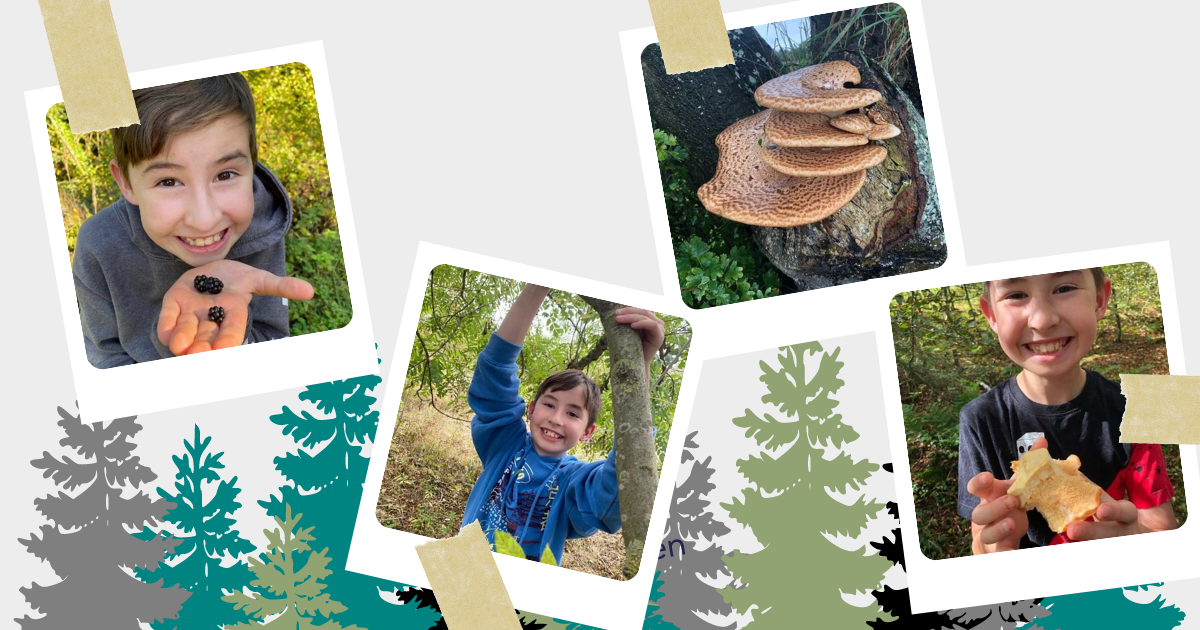 Hi. My name is Ben. I'm 12 years old and I live in beautiful Dumfries and Galloway, South West Scotland.
I love being outside surrounded by nature and am lucky to live in an area with lots of green space and trees. The things I enjoy doing most are going on walks in the forest, along the river, and at the beach, playing outside, and taking my dogs Walter, Betty, and Rosie out for adventures. I'm a Scout too so I enjoy all outdoor adventurous activities like pioneering, and backwoods cooking.
I am a growing boy so I am always hungry! One of my favourite things to do is forage for different food in the woods. Throughout the year there are different things to look out for. Some things are easy to identify and safe to forage, such as wild garlic and nettles in spring, raspberries in summer, and brambles in autumn. Other things are harder to identify and safely forage such as the huge variety of mushrooms usually found in abundance around autumn time.
I have been lucky to find lots of different mushrooms and fungi on my foraging adventures including Chanterelles, Hedgehog mushrooms, Charcoal Burners, Grey Oysters, Wood Ears, Puffball Fungus, Dryad's Daddle, Chicken of the Woods, Amethyst Deceivers and so many more. I have also found Hair Ice on my forest adventures, which is a rare phenomenon when ice forms on dead wood that is infected with the fungus Exidiopsis effusa.
My Dad has taught me a lot about foraging and which mushrooms are easy to identify and safe to eat. I also have a great book about finding food in the wild and I use the internet to help me too. My favourites mushrooms are Chanterelles as they are easy to find and identify because of their egg yolk yellow colour and they are delicious fried with butter, salt and pepper.
My top tips for going foraging are the three Cs:
CAREFUL. Never eat something if you are unsure. Ask an adult.
CLEAN. Wash things before eating.
CONSIDERATE. Never take more than you need.
Good things to make with foraged ingredients are: nettle soup, mushrooms on toast, wild garlic omelette, and berry crumble.
I recommend foraging as it is really good fun and really rewarding. If you've not tried it you should! I hope you enjoy it as much as I do.
For more information about foraging safely, take a look at:
Remember to be careful to identify any fungus picked as 100% safe to eat before doing so.
Head back to the SYPF landing page for more information about the project and the panel.
Young Scot supports young people to share their own voices, views and opinions and works with partner organisations and professionals who are experts in different topics. The views expressed in this blog are those of the young people, organisations and/or individuals who have taken part in the blog, not necessarily the views of Young Scot.