Young people were nominated in our Sports category because they have 'Shown commitment and dedication to sports'. Members of our Angus Young Scot Media group had the very hard job of picking 3 entries to go through to the final stage! A winner and runner up were then chosen by a panel of Mark Armstrong, Depute Chief Executive for Angus Council, Councillors Mark McDonald and Lynne Devine and Pauline Rettie, Communities Officer for Angus Council.
In this category we have chosen to make a special mention too – read on to hear more!
Winner : Gabby Winton
Gabby swims for Arbroath St Thomas and since March this year she has represented her club at 3 National Meets and 2 International Meets, taking a National Bronze Medal for 200m Breast. She is Club Captain and assists poolside with the younger swimmers, volunteers to time-keep at galas and is about to become a fully qualified swimming teacher. All this despite having undergone spinal fusion surgery in 2018, followed by the pandemic. She has achieved so much and is an inspiration to anyone with a disability. She has also completed her Scottish Swimming Young Ambassador's course through the club and is representing her school this year at Tayside Schools Swimming Gala and has offered to help out at the same Gala for the primary children. I believe she truly deserves the recognition for the hard work, dedication and passion she puts into her sport.
"It is incredible to see you demonstrate such massive commitment to sport, in spite of the factors that may have proved barriers to your success. In addition to this you go above and beyond to help other young people participate in sport which is an achievement in itself. Well done." Award judges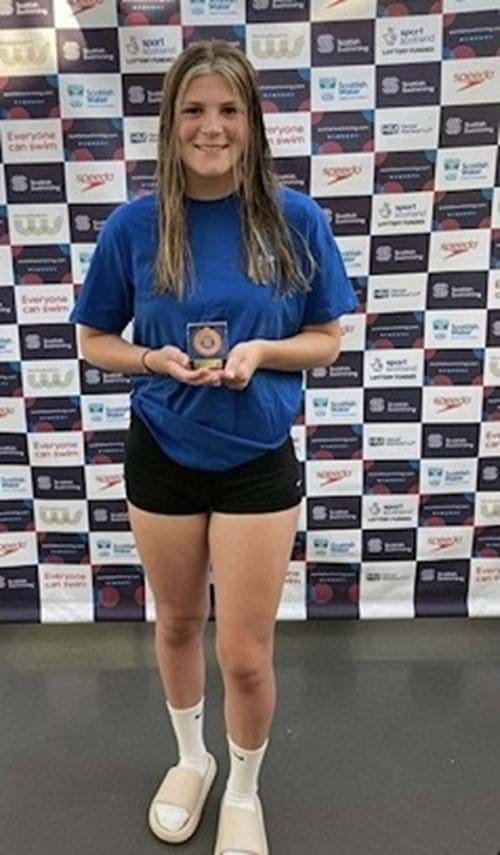 Runner Up : Beth Greig
Beth is 22 years old and has Down's syndrome, she has qualified to represent DSS-GB at the Down Syndrome World Championships in Portugal next month. She has qualified for 6 swims. She is one of only 3 swimmers from Scotland and 1 of 30 from Great Britain, Beth has had to show dedication and commitment to reach the tight qualifying times set by Team GB. She trains with St Thomas 4 times a week and does gym/fitness work 4 times a week too. She also attends swim camps run by Team GB all over the UK. Beth trains with a mainstream club and shoes that inclusion can work when given the chance.
The judges were incredibly impressed by the commitment Beth has shown to swimming which has resulted in her achieving such phenomenal success at a professional level, representing her team and country on a national and international basis. They recognise the huge personal sacrifice Beth has made to achieve this – well done!