oung people were nominated in our Equality and diversity role model category because they have 'Challenged stereotypes and worked with others towards changing perceptions of young people'. Nominations were shortlisted by Angus Member's of the Scottish Youth Parliament. A winner and runner up were chosen by a panel of Mark Armstrong, Depute Chief Executive for Angus Council, Councillors Mark McDonald and Lynne Devine and Pauline Rettie, Communities Officer for Angus Council.
An inspiring and challenging category to judge – but we got there in the end! Read on for the results!
Winners : Angus Promise Ambassador's – Kymberley and Natasha Laing
Kymberley and Natasha use their own care experience to campaign for change in our systems. They dedicate their time to speaking up for our care experienced children and young people and to promote community engagement – challenging the stereotypes that exist for them. They have delivered presentations about the key messages of The Promise to over 150 leaders across Angus Council, challenging them to think about how they will #KeepThePromise. They are promoting and raising the profile of children's rights. Their creative approach means the ways in which this is done are changing. A great example of this is their idea to create a children's book to help explain to children in care all the processes which may otherwise seem scary, to ensure they know where they can access support and make complaints. They are also designing a PHSE module for use in schools to try and break down the stigma of care. Their work is ultimately ensuring our care experienced children are not disadvantaged from their peers. They have helped set up a new children's participation and youth group for care experienced young people giving them a safe space to play, learn and have their voices heard. They are the heart of the work we are completing to implement The Promise in Angus.
Judges were impressed with the number of people impacted by their work, the way in which they use their own experience to shape what they are doing and that young people are leading the way. This is what they had to say:
"We have been incredibly impressed by the efforts of Kymberley and Natasha, who have done a phenomenal amount of work despite the barriers they have faced personally. They have sought out and made the most of every opportunity to normalise their story and change how other young people view care experienced young people. They have worked to shift the system and bring about change that will make a difference to the lives of many in Angus and beyond." Award judges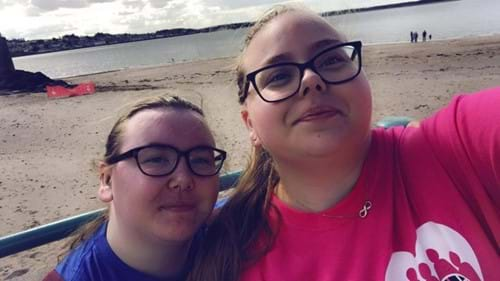 "I feel very grateful to have won this award. It means I'm finally making a change in the care system and other people are recognizing me as well in the work that I do. Being care experience myself means I have been able to challenge the stereotypes and change peoples perspectives on the way I felt in the care system, so that no one else has to feel the way that I was made to feel. Working alongside Angus council and Who Cares? Scotland Has given me the opportunity to work and do the things that I feel is necessary to make a difference to make a change and make an other people aware of that too. A big part of that has been able to work with my sister Natasha because we both put our minds together and we know how it feels from our sisters perspective in the care system also. I would like to say massive thank you to everyone who has supported me and who continues to support me."
– Kym
"Winning this award feels like recognition of the change I am trying to make and encourages me to keep pushing. Being care experienced myself I always wanted to improve the lives of care experience people in any way I could. Working as part of Who Cares? Scotland and Angus council has given me the platform to be able to influence change and allowed me to win this award, I thank them for their continued love and support. I couldn't ask for anything more than to have won this award alongside my wonderful sister."
– Tash
Runner up : Natasha McNaughton
Natasha joined the Media group over one year ago and has progressed so much in confidence in the time we have known her. When Natasha first joined we could see she was quite nervous and it took a little bit of time for her to come out of her shell – and we are so glad she did. Being partially sighted has not held Natasha back. She has been an active group member – involved in planning filming, acting in a film they produced, and creating a short piece alongside a fellow group member which they sing on film. Natasha is a great role model to those who may find their senses impaired. She does not let this hold her back at group and her sense of humour, smile and laugh are infectious! Natasha always thinks outside of the box and is great at considering what types of media would be most accessible to others.
Judges were impressed by the amount Natasha has grown and developed during her time working with the media group. Her approach is proactive and she is truly leading by example to show others you can overcome the barriers you are faced with. Well done!